How to tie a bow tie by yourself
Bow ties are common clothing accessories for every man,
and they are also essential constituent parts of Men's wear. However, there are some people.
they don't know how to tie a bow tie when wearing it.
It seems that tying a bow tie is a difficult thing.
Now, We will tell you that you are wrong, tying a bow tie is so easy, just like tying your shoes.
1 : Put the bow tie on your neck, and keep one end longer than the other one,
overlap them and make the longer end In the above
2 Make the longer end circle the short one(Refer to figure 3), fold the short end into cyclic annular.
3 Put the longer end in front of the cyclic annular.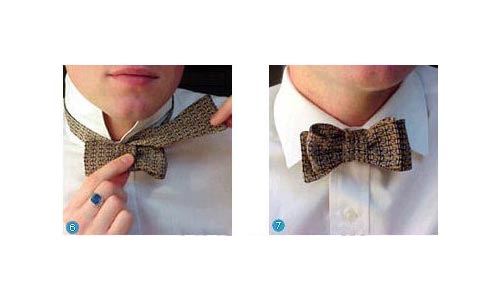 4 Hold the cyclic annular, enwind the cyclic annular with the longer end as shown in the figure 6
5 Fold The rest of the longer end into cyclic annular too, and Put it into the middle circle
6 Now,you can see that you have completely tied a bow tie
Certainly, If the bow tie is not so beautiful as you expected,
just gently pull the both ends and adjust the knot, Is it more simple than tying your shoes?
Xiuhe is a professional custom bow tie factory,
and we design and produce all kinds of middle and top grade bow tie. In addition,
we have several experienced experts who know a lot of bow ties,
they are very glad to communicate with you about these,
Click Here to Browse the official website of Xiuhe
we can offer all kinds of custom vest , ties, bowties, and etc. just
contact us