You may want to know - How to wear a tie well
You may use a tie on a variety of occasions, but do you know there are many ways to wear a tie?Look down and you'll find a new continent.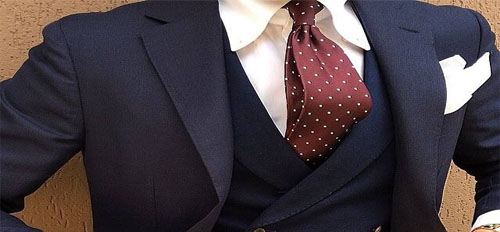 The Piain Knot is one of the most popular ties for men.
It is almost suitable for neckties of various materials.
After finishing, the tie is angled triangle, suitable for narrow collar shirt.
Tips: the one with wide tie is on the left hand side.In the selection of "men's dimples", try to make both sides equally symmetrical.

A delicate tie is paired with a Double Knot.
This is suitable for young office workers.
Tips: the style of the tie wear is that the first circle will be slightly out of the second circle, so don't try to cover it.

This is suitable for monochrome plain and thin tie.
For men who like to show their popularity, "Cross Kont" can be a perfect match.
The characteristic of the Cross Kont is that the knot has a dividing line, it is suitable for the tie with a simple color and thin texture, it feels very fashionable.
Tips: the back of the tie is facing forward.

The Double Cross Knot is very easy to reflect the man's elegant and solemn temperament, it is suitable for the formal event selection.
It's more suitable for plain and silk ties with a large lapel shirt.
Tips: the wide one is worn between the first and second circles.

The Windsor knot is named after the duke of Windsor and is the most orthodox tie.
The knot is a positive triangle, suitable for a wide collared shirt.
Tips: wide margins are reserved for a long space, and loose and tight around the belt will affect the size of tie knots.

I think you must have learned a lot. Now you just need to contact us and start customizing your own tie.Right?
Xiuhe is a professional custom men's clothing accessories factory.
we can offer all kinds of custom vest , ties, bowties, and etc. just
contact us